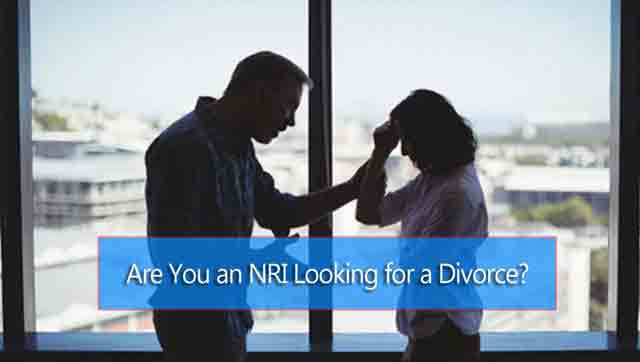 Divorce
Divorce is the absolute dissolution of marriage. In India, divorce is completely remonstrated by the religion as well as society. It's considered as a life-changing event for a person who's seeking the divorce. Therefore, it leads to emotional stress and social disgrace. Divorce is a hasty stop and legal process to end a relationship or marriage. The financial trauma of this is severe.
NRI Divorce
Agony and anguish are minor parts of every relationship and it's pretty natural, but when it's become intolerable, the only option left for couples is divorce. Although, getting divorce becomes an even more complicated task when one party is not an Indian citizen or NRI (Non-Resident Indian).
The modern trend among Indian men and women is getting married to NRI's. The longing to settle outside from India for better standard and quality life encourages Indians to get married to NRI's. The most recent data shows that around 225 women's from metro cities get married to NRI's every year. Out of these almost 25 marriages are either abandoned by husbands or want to end their marriages due to betrayal or hiding facts. There are many other situations which lead to divorce. However, the process needs one of the spouses to provide the following Information for executing the Divorce Process:
Marriage Location, it happens in India or Abroad
Does have any child?
The religion of both partners
Country citizenship
The financial situation of both parties
The Process of NRI Divorce
The Two Forums
Once you conclude that, you cannot fix your marriage and relationship, a plea for divorce needs to be submitted in court for starting the process. Consequently, there are two forums are available, which may apply in various situations. If your partner is NRI and you stay in India, you can choose an Indian court for proceeding and another option is to file litigation in a foreign court.
Procedure for Filing a Divorce Suit in India
Seeking a divorce in India is an interminable legal process, where the duration of pursuit takes a minimum of six months. However, the time and money are necessary to get a divorce, it can be shortened and least complicated if the couple seeks divorce by mutual consent. According to the recent update in divorce law, six months of the cooling period has been waived off.
The Procedure for seeking a divorce by mutual consent is commenced by filing a petition by both parties in the family court. It is known as First Motion Petition for Mutual consent divorce, it consists a joint statement by both partners, "why they can no longer stay together and should be granted a divorce by the court".
After submitting the plea and joint statement of both parties, the court generally postpones the case for the next 6 months. Court give 6 month time to rethink about their divorce decision. If there is no chance for reconciliation in this period, the court easily grants a divorce after making a second motion confirming the mutual consent.
Divorce in a Foreign Country
A person who has married an NRI, seeking divorce should be aware of the basic laws related to NRI divorce.
If both the spouses are Indians and have been married under Hindu Marriage Act, 1955, they can seek divorce with mutual consent under section 13-B.
If both parties are living in any foreign country, they can seek divorce by mutual consent under the country's divorce laws related to foreign marriages. The Indian law will only consider the divorce only if it is with the mutual consent of both the parties.
Hope you guys get help here. However, to get a free consultation regarding divorce, feel free to contact our Best divorce lawyer in Delhi.