Court Marriage Lawyer Delhi – Register Your Marriage to Make it Legitimate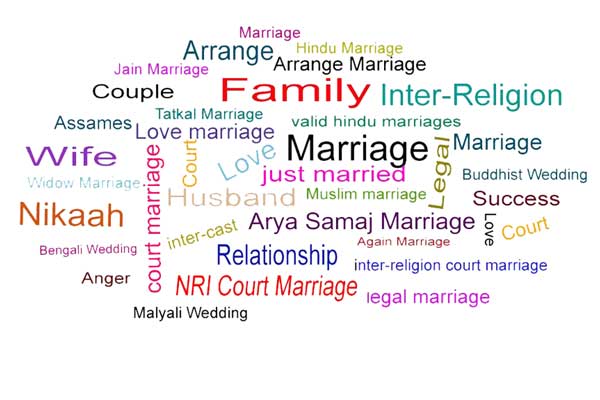 As per the guidelines of the Special Marriage Act, 1954 the court marriage can be solemnized between an Indian native Male and Female, without considering their caste, religion, or principles. Also, court marriage can take place between an Indian and NRI.
Conditions to Perform Court Marriage
For a valid court marriage, the groom should be at least 21 years and the bride should be at least 18 years.

Both parties should be mentally fit and sound to take their life decisions. The consent of both parties is necessary.

The parties should not form any prohibited relationships.

Filling out the application form in the correct format with the prescribed fees is necessary.

None of the parties should have a subsisting valid marriage.

Complete documents including residence proof, NOC, and passport size photos are required

Death certificate of ex-spouse or divorce-proof, if any of the party had marriage in the past.
"Court Marriage without Sending Notice to Home"
Documents Required for Court Marriage
The application form duly filled by both parties.

The age proof/DOB document for both bride and groom. (Birth certificate/Educational certificate/Passport)

For registering the marriage in Delhi, you must have proof of living in Delhi, more than 30 days.

Affidavits by both parties must include:

Date of birth

The marital status: Unmarried/widower/divorcee

Assurance that parties do not connect with the prohibited

Citizenship

Intent marriage affirmation

3 attested copies of passport size photos of both parties.

The proof of divorce or death in the case of widow/widower.

The NOC is required in foreign marriages.

If the couple is planning to live in India after marriage, must have proof of granted citizenship/ tax liability for marriage.
"Instant Relief of Protection From Police And Parents"
Various Marriage Registration Services Offered by Delhi Lawyers' Team
NRI Court Marriage
To proceed with an NRI marriage one has two law options namely Special Marriage Act-1954 and Hindu Marriage Act 1955. To get an immediate certificate for marriage, Hindu Marriage Act 1955 is recommended while under the Special Marriage Act-1954 minimum thirty days' notice period is required.
Arya Samaj Marriage in Delhi
Arya Samaj marriage can be done without the bar of religion. Arya Samaj marriage is a Vedic marriage tradition which is also known as Arya marriage approval act XIX of 1937. There is no specific god addressed in the Arya Samaj marriage act, only the rituals and mantras recommended by Vedas are performed.
Hindu Marriage Act-1955
The complete verification of documents and registration is done in a single working day and a marriage certificate by Govt. of India is issued.
The Hindu Marriage Act, 1955 followed by every Hindu, Jain, Sikh, and Buddhists to perform marriage. But a Muslim, Christian, Parsi, Jew or any other community which has a different law-set, can't register their marriage under Hindu Marriage Act.
Inter-Religion Court Marriage
The court marriage of different religions is the mainstream nowadays. This is a marriage irrespective of religious differences. The constitution assures the security of life and freedom of the couple after a inter-religion or inter-caste marriage.
Muslim Marriage
Marriage in Muslim culture is stated as "Nikaah" as per the fundamentals of Islamic law. All you need is two witnesses either male or female. The marriage registration takes place in the mosque under the validation of witnesses. The payable amount is defined which is payable in the case of separation. It is all about the religious faith as the Indian government doesn't differentiate between normal court marriage and Muslim marriage.
Tatkal Marriage Registration
The option of Tatkal marriage registration is introduced by the Revenue Department of Delhi Government. So, you can avail of the certificate of court marriage in Delhi within 24 hours.
What Are Steps for Online Marriage Registration
After solemnizing the marriage, one needs to get into the process of marriage registration. Therefore, we are here providing the steps for online registration of court marriage.
Step 1: Open the government marriage portal.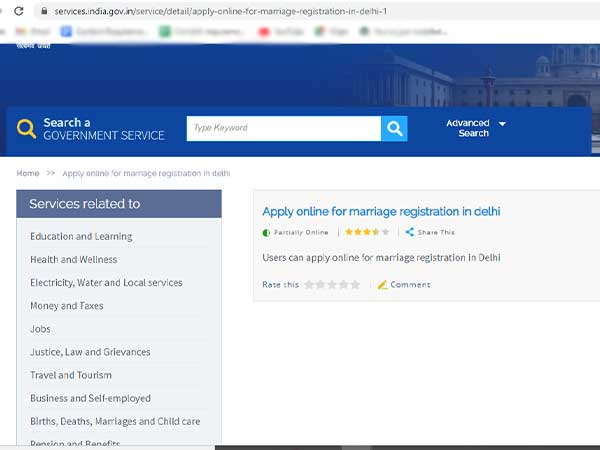 Step 2: You then need to register yourself, by clicking on the "Register" button.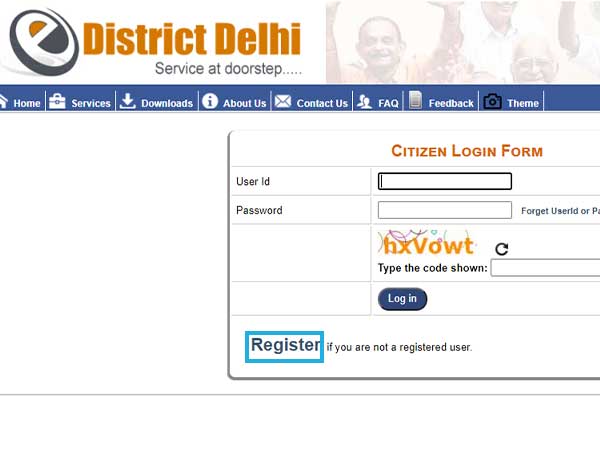 Step 3: Enter the required information for marriage registration.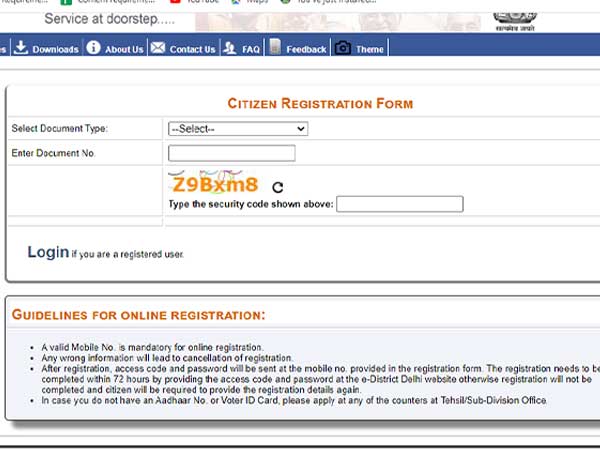 Step 4: Follow the on-screen instructions to complete the process.
FAQ
Q.1 Is Court Marriage Legal In India?
Ans 1- Yes. Court marriage is a pretty common thing these days. It comes under the special marriage act, 1954. Court marriage is done without any sort of discrimination on the basis of caste, religion, or creed. It can also be performed in inter-caste and inter-religion. Couples can simply apply to the marriage registrar to get a marriage certificate.
Q.2 What Is The System Of Court Marriage?
Ans 2- Court marriage requires both the male and the female to be not in a pre-existing marriage unless the spouse is not living or divorced. The minimum age for the male should be 21 and 18 for females. Parties also need to keep in mind that they are not related to each other in any manner unless it is valid in the traditions of the religion.
Q.3 What Is The Difference Between Court Marriage And Registered Marriage?
Ans 3- Court marriages and marriage registration are two different things in every nation. Registration of marriage is necessary if you are planning to travel abroad since it is a legal document that proves that you are married, especially in foreign countries. Although there are a couple of common things such as the minimum age, that is, 21 for males and 18 for females.
Q.4 What Are The Rules To Marry?
Ans 4- The person getting married should be above the legal age and shouldn't be in a pre-existing marriage. The legal age for males is 21 and for females, it is 18. It is also necessary that both parties are sane. Both parties should be able to give their consent for the marriage freely.
Q.5 What Is The Disadvantage Of Court Marriage?
Ans 5- Although court marriage saves a lot of time, it has its downsides too. The major downside is the thoroughness of the process that it demands from an applicant in filing all the documents. While filling the documents, it is mandatory for one to provide personal information in all different forms along with written notarized testimony.
Q.6 What Is The Importance Of Court Marriage?
Ans 6- Court marriage is a pretty economical and simple process when compared to other methods. Court marriages save a lot of time and huge expenses of ceremonies and wedding rituals. Apart from this, it also ensures the consent of both parties, although the consent of the parties may or may not be free.
Q.7 Is A Court Marriage A Real Marriage?
Ans 7- Yes, it is a real marriage. In general terms, court marriage is an official union of a man and a woman that is solemnized under the court of law. It is generally conducted in front of a magistrate with the help of an experienced lawyer. Apart from this, both parties also get tons of social and legal benefits.
Q.8 Can Court Marriage Be Done Twice?
Ans 8- As per the marriage laws of Hindus, one cannot get married twice. Although one can do so if the person marries first as per Hindu rites and then contracts another marriage by the court, then the court marriage will be rendered null and void. It also depends upon the case and may vary for each case.
Q.9 How Many Types Of Marriages Are There?
Ans 9- All in all, there are a total of 8 in Hinduism. This includes Brahma marriage, Daiva marriage, Arsha marriage, Prajapatya marriage, Gandharva marriage, Asura marriage, Paishacha marriage, and Rakshasha marriage. Different parts of India follow different sorts of customs when it comes to marriage. Some of the common things include mangalsutra, sindoor, and bangles that are worn by an Indian woman.