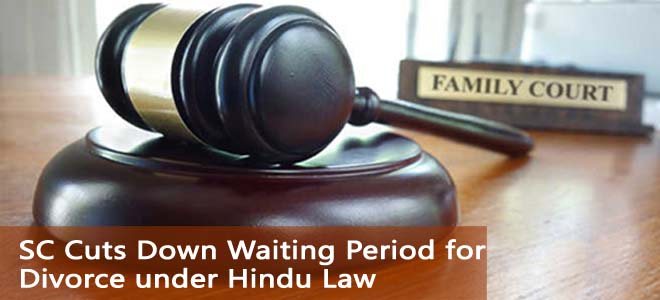 In a recent verdict of Supreme Court, six month waiting period has been cut-off for the couples who are seeking divorce under Hindu Marriage Act, 1955. According to the judgment, it is now clear that the couple will not have to wait for the compulsory 18 month period for the divorce.
A judicial panel of Justice UU Lalit and Justice Adarsh K Goyal explained that, if couple separating through mutual consent, 6 months cooling off period can be abandoned.
This explains that "Section 13B includes a bar to divorce being allowed before six months of time elapsing, after submitting a divorce plea by mutual consent". The 6 month period was allowed to both parties to rethink about their decision. If there is no chance for reconciliation in this period court can easily grant divorce by mutual consent.
Before this judgment, according to section 13B of the Hindu Marriage Act 1955, a couple had to wait for 18 months for getting a divorce through mutual consent. In a provision of 13B (1) of Hindu Marriage Act, the couple had to wait for one year once the divorce petition is filed, and under 13 B (2) couple had to go through another 6 month waiting period, which is now waived off.
The Supreme Court ended that 6 month period stated in section 13B (2), and it is not compulsory but a decree in nature. It will be open to the court to exercise its judgment based on the facts and when there are no chances between parties to continue the relationship and improve anyway.
The supreme court has passed the order on a petition submitted by a couple, who wants to get rid of cooling off period as they had been separated since last eight years and had fixed all related issues to the custody of child and alimony. They requested to the court that delay in divorce would influence their chances of resettling in life. This is when the idea of waiving down the cooling period was first introduced. At present, section 13 B (2) is not considered as the compulsory step in mutual consent divorce.