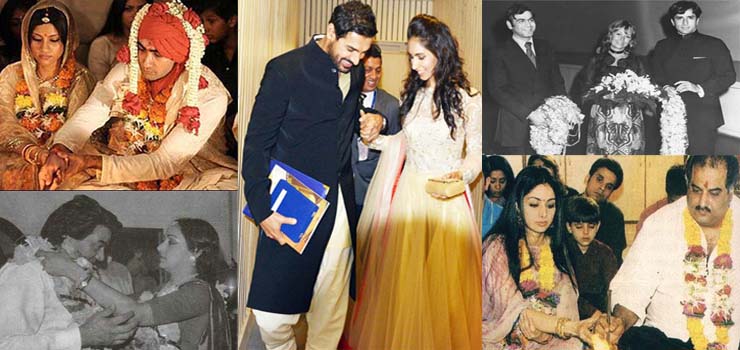 Bollywood weddings always rejoice the main headlines on news. Every celeb tries to make a creative move while getting married so that the event can be recalled for years. Investing whole lot money is a common trend of Bollywood wedding diaries, but some celebrities decided to do it out of the league. Few very-famous names of Bollywood tie a knot in the courtroom instead of a traditional wedding. Let's talk about the Bollywood couples who picked court marriage over a fat wedding.
#1:- Dharmendra and Hema Malini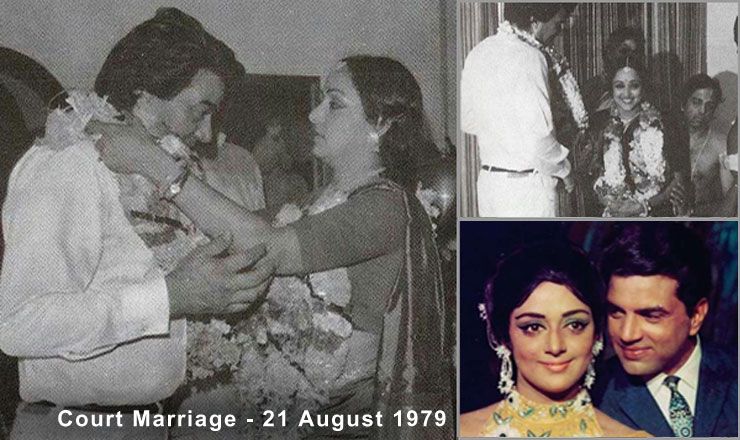 Dharmendra was already sharing marriage bond with her first wife when he met Hema Malini. As we know, Hema was known as Dream-girl of her era and rules many hearts, the same way Dharmendra was the most charming actor of his time. This good-looking couple eloped and solemnized court marriage. Rumors say that Dharmendra changed her religion to get married to Hema Malini.
#2:- Boney Kapoor and Sridevi: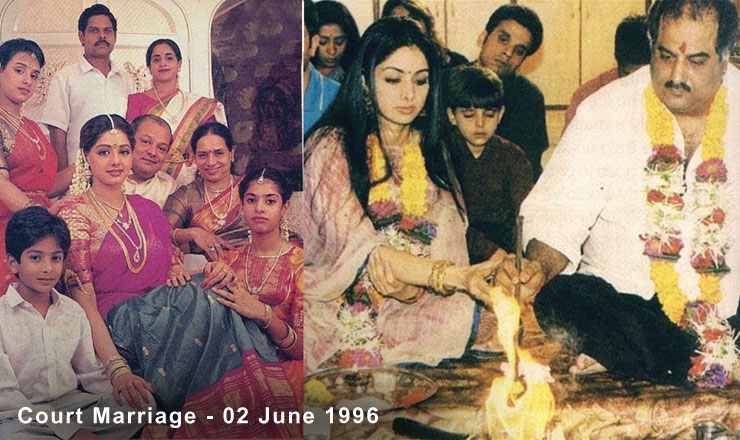 This secret marriage shocked everyone in the B-town. Boney was married the time he started dating Sridevi. He married Sridevi in Court and divorced her first wife.
#3:- Saif Ali Khan and Amrita Singh: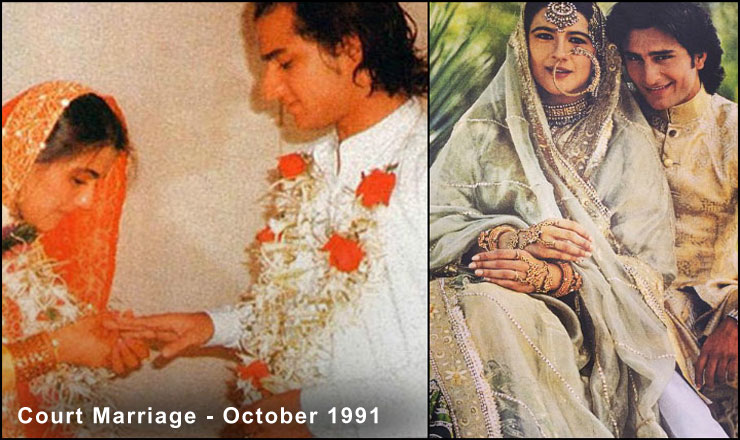 There is a huge age gap between Saif and Amrita, so it becomes hard-to-digest for Saif's parents. The couple just heard what their heart said and picked court marriage over pomp and show. They got married in October 1991 and separated in 2004.
#4:- John Abraham and Priya Runchal: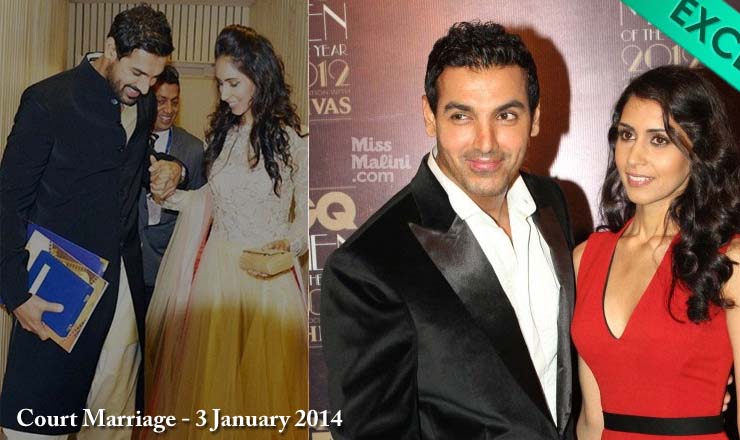 John the handsome hunk of B-town, who is blessed with a beautiful smile, dated Bipasha Basu for a long period of time. But he shocked entire industry with his court- marriage with Priya Runchal and needless to say, broke many hearts.
#5:- Ranvir Shorey and Konkona Sen Sharma: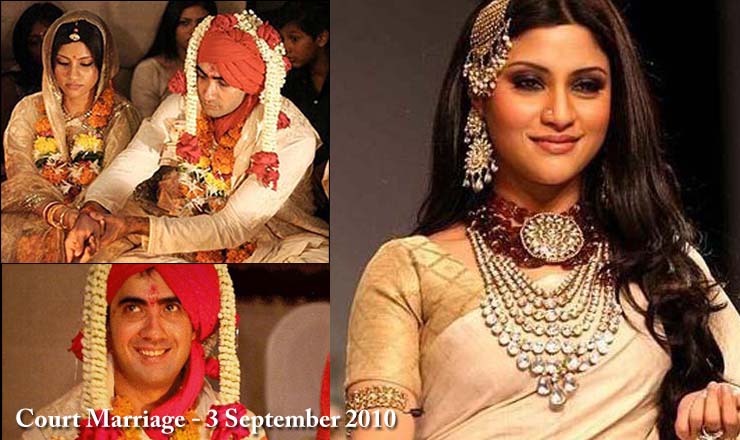 Ranvir and Konkana both have set a benchmark with their talent. They had a long affair before marriage. But their court-marriage raised many eyebrows and it was too sudden to believe.
#6:- Amir Khan and Reena Dutta: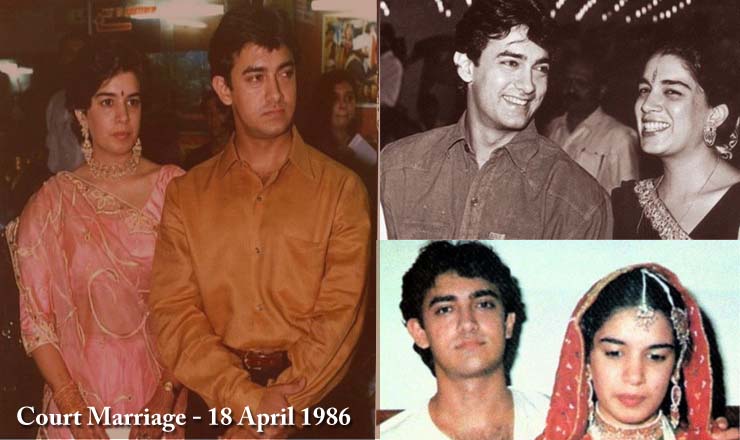 Amir and Reena were childhood sweethearts and shared a long friendship before marriage. But Amir was rejected by Reena's parents because of religious differences and this made the couple go for court marriage. They got married on April 18, 1986, and the couple was blessed with one baby girl and baby boy. The marriage lasted for 16 years and then they decided to call off the marriage.
#7:- Padmini Kohlapure and Pradeep Sharma: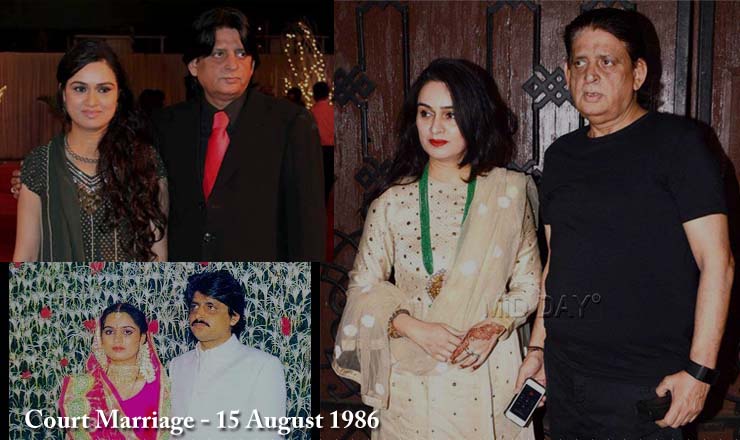 Padmini and Pradeep met on the set of Aisa Pyaar Kahan. But the couple kept their relationship hidden for a long time. Padmini's parents didn't agree with her decision of marrying Pradeep, as he belongs to a different community. After this huge backlash, the couple decided to elope and get married in court. Few of marriage rituals were performed at a friend's house. This marriage still at its blossom and the couple has a son named Priyank.
#8:- Shashi Kapoor and Jennifer Kendal: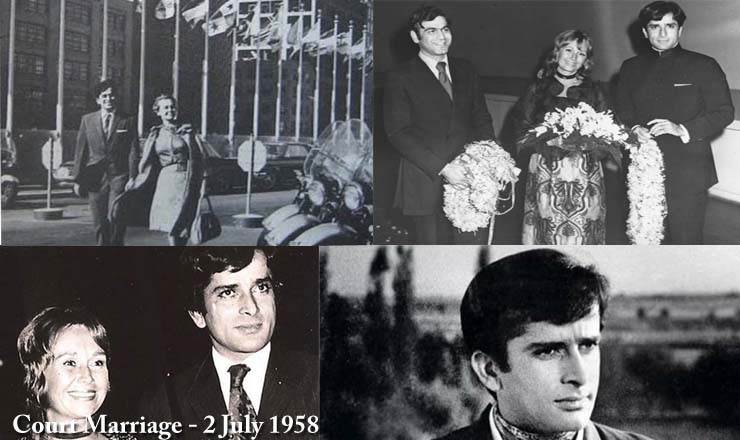 Shashi was fond of theatres and this passion brought Jennifer into his life. Jennifer and Shashi met while pursuing their love for theatres. The duo fell in love eventually and decided to marry, but Jennifer's father was against their decision. However, Jennifer was firm with her decision of marrying Shashi and then they got married Married in July 1958.
#9:- Sanjay Dutt and Maanyata: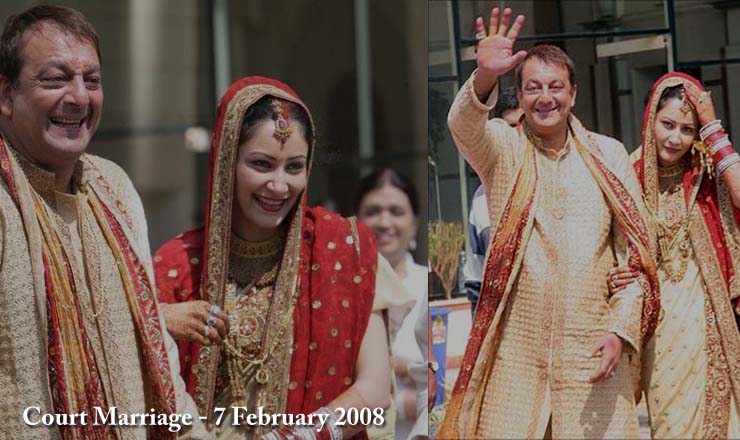 Sanjay and Maanyata were in a relationship for long two years. The duo decided to marry in 2008 secretly, their court marriage was a shocking affair for the B-city. Though it was the third marriage of Sanjay Dutt, they kept it out of the knowledge of everyone for a long time.
#10:- Ryan Tham and Minissha Lamba: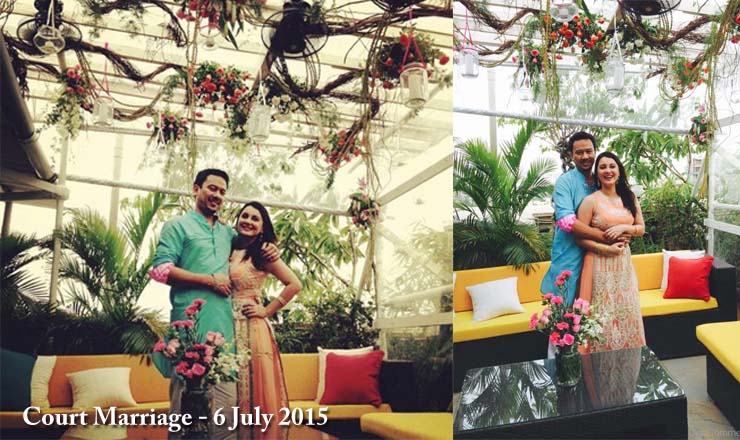 Minissha Lamba has a secret marriage with her love Ryan Tham and became a hot topic of the B- metropolis. It is said that they both had registered court marriage without any traditional ceremony. This was the most clueless affair which was later disclosed by the tweet of Pooja Bedi, who congratulated coupe for their wedding.