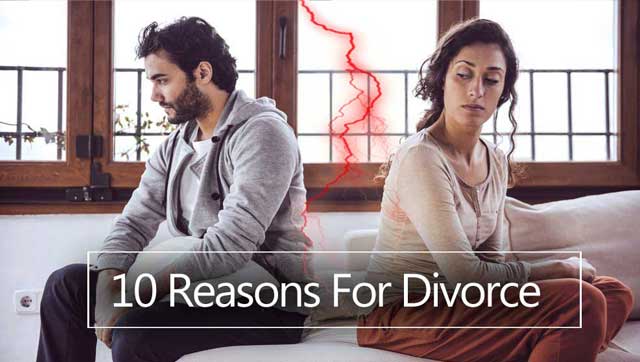 There is an old saying that marriages are made in paradise, now it appears to lose its significance and holiness due to an excessive number of divorces in the society. Nowadays marriages wind up in the early months of its solemnization. There are various conflicts which cause divorce but in a country like India, it seems impossible to end the marriage. When someone asks for a separation, it is because the problem in the marriage has overpowered the relation.
Infidelity, lack of communication, financial dilemmas, infrequent sessions of sex and lack of intimacy are some of the common reasons for divorce. Here below are the top 10 most common reasons for divorce.
Extramarital relations:
Extra-marital affairs are the real cause behind the failure of most marriages that end up with divorce. Anger, dislike, and lack of respect for spiritual values are common reasons that lead one to sexual indulgence out of marriage. It starts with a normal friendship and later on it develops into a physical affair. Infidelity is an ultimate trust broker.
Lack of Communication:
Good communication is key to the smooth running of the relationship. Through communication, you can convey your thoughts, feelings and your desires. Moreover, it helps to build the bond between the couple. Lacking in communication can drastically affect your relation. Many couples have their ego issues and never try to fill the gap, which can be filled with an easy conversation. Consequently, the lack of communication leads to a divorce.
Emotional and Physical abuse:
Emotional abuse is the seed to physical abuse. In many cases, the husband starts emotional abuse to express his superiority, after a period of time the wife become rebellions against it. Emotional abuse in extreme form manifests in physical abuse and relations starts collapsing.
Not being prepared for marriage:
Most of the couples are not prepared for the marriage in the early age, mostly in 20'. According to a survey, it is found that divorce rates are the highest among couples in their 20s. Nearly half the divorces befall in the first 10 years of marriage between the fourth and eighth anniversary of marriage.
Different Priorities and interests:
Sharing interests and discovering them together is essential for a successful and happy marriage. Undeniably, having "personal time" is important as well, but unless you find common passions and look for ways to experience them together, you'll certainly go distant.
Loss of affection:
No doubt sex is great, but you also need to add-on it with small hello's and goodbye kisses, unplanned hugs and simply holding hands. Couples who don't uphold an intimate connection through both sexual and non-sexual actions are intended to become virtual strangers.
Finances:
It's not frequently the lack of finances that grounds the divorce, but the lack of compatibility in the financial arena does. Contraries can attract but when two people are opposites in the finances, divorce often follows. One is focused on the future-saving while the other's beliefs are opposite. One has no problem buying on credit, while the other believes in saving for future. With the time, this clash can reach such heights that divorce seems to be the only logical decision.
Unrealistic expectations:
Most of the marriages are performed on great hopes. When expectations start to devastate, the couple starts fighting with each other. Girls certainly expect materialistic comfort in the form of money, respect in society, liberty in household decision etc. Whereas boys are supposed to be more royal and the dominant in their decisions. Disappointment in expectations lead to nasty relations and finally collapse of the marriage.
Lack of respect and intimacy:
Modern day life of individuals become so hectic due to busy office schedule. Couples hardly finds to give time to understand each other's feelings. Small efforts done by a partner can heel every harsh relation. If you are regularly giving your partner a cold shoulder, it can become the ground for divorce.
Infertility/Wish for children:
Problems regarding a child can create doubts in a partner's mind and dispute ascend when only one partner wishes to have a child. This is pretty common in relationships.